I'm psyched today for the grand opening of the Miro Store.
We have some beautiful t-shirts for sale. These aren't your average, crappy-shirt-that-I-got-because-I-like-the-thing shirts. You'll actually want to wear your Miro shirts just because they look good. And everything you buy helps support the project. Check back often, we're getting a few different artists to create shirts and will be adding new stuff regularly.
There's one shirt in particular I'd like to highlight, which has been a big hit when we've shown it to people before now. It was designed by Dan Funderburgh. Here it is: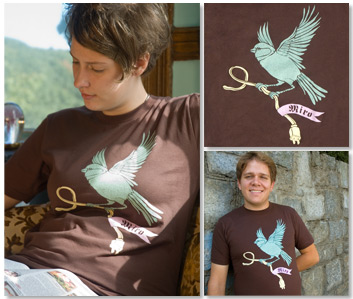 And my personal favorite is a shirt from graphic artist Jamie Buckmaster.
For the store itself, Andrew made us a great storefront, with nice simple functionality, I really like it. It's based on OS Commerce and we'll probably post the source code when we get a chance. I'm a big fan of the single page store with the shopping cart on the same page. It feels so nice and easy, especially when you only have a few items for sale, as we do.
All our shirts are printed on American Apparel t-shirts, which are the best fitting and most comfortable around.
Anyway, enough talk, try out the Miro Store yourself.
One last nerd note: as we made the store, we decided that we aren't going to support Internet Explorer version 6. Screw it! It's been the bane of web developers for years and seemed like it would never disappear. But now it's being used by only 13% of the visitors to getmiro.com and Microsoft has finally decided that they will be pushing it out to all Windows XP users over the next couple months, so I expect that number will drop dramatically by the end of the year. It feels great to say that we aren't going to bother with a million hacks to get IE6 to display things correctly. If you are using IE6, the store is going to look kind of messed up. Get Firefox!