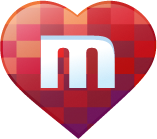 We need your help to keep Miro alive. To those of you that have already donated this year– thank you so much. If you haven't given yet, here's why it's urgent.
Over the past year, PCF, the non-profit that makes Miro, has had some big successes. We've won a Tech Award for advancing equality and an award from the FCC for innovation in accessibility for the deaf and hard of hearing. Miro has taken huge strides forward, adding full music support, Android syncing, and much more– Miro is now used by millions of people every month!
We believe deeply in the power of open tools. But our very small budget depends on donations from users and we are facing serious shortfall going into 2012. Can you make a donation?
After you give, you'll see a list of new features that we are considering: please vote on what you'd most like to see in the next version of Miro.
We are already hard at work on a major update to Miro that will bring exciting new features and major performance improvements. Miro is built by one of the smallest software teams in the world for a project of this scale, just a few very underpaid developers. But even with our tiny (and incredibly talented team), it does take some money to build and offer Miro for free to everyone.
Our request this month is very real– we just can't afford to keep making Miro without more user support. If you can make a donation of any size today, it will help ensure that Miro can live on into next year and beyond.
Thank you for reading and, as always, for using Miro. And please, if you possibly can, make a donation today.